Linking up with
Ashley
for another Friday's Letters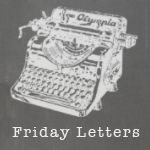 Dear Friday, have ever told you that you are my favorite day of the week?
Dear Fall, HELLO!!!! Please stay awhile, although I am a winter baby I do enjoy this wonderful weather and I'm not quite ready to pull out my uggs and winter coat yet!
Dear Revlon, thank you for this red lipstick I think I'm in love!
Dear Library, looks like we are going to rekindle our long lost relationship since I just realized that I have midterms in two weeks.
Dear Dazzles (Don't judge our name), I love you guys, I never would have thought that we would be this close but I'm glad to have you as friends. Our Instagram comment conversations have definitely gotten me through this week <3
Happy Friday Everyone and as always stay FAB <3