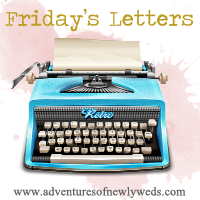 Dear Mind: Please let me stop getting distracted at work today. I just can't get myself into a groove.
Dear Body: I would really appreciate if you cooperate at my fitting next week. Please don't go crazy and bloat so my dress does not fit around my hips. You and I both know that the seamstress basically told us to eat salad and we have not complied.
Dear Fiance: Thank you for tolerating my craziness as the wedding approaches. I apologize for watching the first Sex In the City movie yesterday and getting myself all worked up about potentially being left at the altar.
Dear Friends: I love how I am learning so much about all of you during this wedding process. Thank you to those of you who have stepped up and surprised me with your generosity, love and support. But also thank you to the friends who I have learned that you are really not a friend to me. Coming into my mid-twenties, I would rather know now than later.
Dear Blogging World: Thank you for helping me get more confidence. Which each blog I read and fall in love with, I feel more and more happy with myself. I am learning to really love myself and love others even more each day. I never thought I would gain this much from blogging.