Linking up with
Ashley
for another Friday's Letters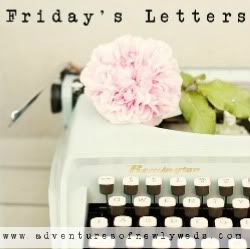 Dear Daddy...........I just wanted to say Happy Birthday to you!!! You are such an amazing person and I am so blessed to have a father like you. Thank you for being selfless at all times, and providing for us, you are the epitome of a great father and husband and you are definitely a hard act to follow. You have shown me how a woman should be treated and for that I thank you.
Dear EDC 670.........Like really???? This whole statistics chapter is really not my fav, I feel like I'm back in college in my Psych classes.
Dear Jordyn.........You definitely have your godmother wrapped around your little fingers. Every time I go into a store I have to pick something up for you. I love you and I can't wait to see the beautiful woman you grow up to be.
Dear Alex.........Although we don't speak or see each other as much as we used to I really appreciate our friendship. You are one of the few friends that I have that we can pick up from where we left off. Just wanted to wish you a Happy Birthday Eve, I am glad to have you in my life and glad to know that we are more than just friends but family. You definitely aren't getting of me anytime soon. Have a wonderful Birthday and I hope you enjoy your day tomorrow. Kandy Krew for Life!!!!! (I never forgot about it)
Happy Friday everyone, wishing all of our lovely readers a Fabulous weekend!!!!