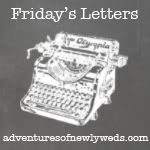 Dear LIPA, please continue to work hard to restore power in Long Island. Although I appreciate the days off from work, I really do miss the internet, hot showers that are not operated by a generator, and cooking NOT by candlelight.
Dear Gas Stations, if you have gas, please do not be afraid to open your doors to the public. There are a lot of wonderful people out here who could really benefit from having gas to power their cars and house and they promise not to cause a riot.
Dear Sister, I really cannot get over the fact that you are officially a mom... which makes me an Auntie. I still feel like I just got a little brother instead of a nephew.
Dear Brain, thank you for being so strong the past few days when it comes to my eating. I know that you are really the person who controls my emotional eating problem. I hope that you can stay strong from here on out.
Dear Body, please heal from this terrible cold you have been walking around with for the past few weeks. I would really like to get back to my workouts and just feeling better.
Dear Certification Exam, please allow me to know the answers on the test in a few weeks. I know I haven't been studying the way I need to be, but I promise to put some extra work in the next few weeks.
Dear Gym, thank you for being up and running so I can write this blog post. If power doesn't come up for a bit, it may be awhile before I can blog normally again. AND I love blogging!